Jack and the Beanstalk er en 3D-video-spillemaskine fra svenske Net Entertainment. Spillet blev introduceret i december 2011, og det er en fortolkning af det velkendte gamle eventyr om Jack og bønnestagen, som det hedder oversat til dansk. Man mener, at eventyret om Jack blev bragt til England med vikingerne, der kom med vikingeskibe helt fra Norden, hvorefter fortællingen udviklede sig som et folkesagn igennem flere hundrede år. Til sidst er historien blevet nedskrevet i nogenlunde den version, de fleste børn og voksne kender så godt i dag med drengen Jack og hans fabelagtige jagt på rigdom og velstand. Jack er godt nok en smule doven, men der skal ikke herske nogen tvivl om, at han har sans for eventyr. Han bliver en dag sendt ud til det lokale marked for at skaffe penge til mad, men her falder han for et tilbud fra en underlig mand. Tilbuddet lyder, at Jack kan få seks tryllebønner for familiens ko, og på den måde begynder eventyret om de underlige bønner, der kan vokse helt op i skyerne til en menneskeædende kæmpe, som Jack skal narre.
JACK AND THE BEANSTALK VIDEO
SPILLEREGLERNE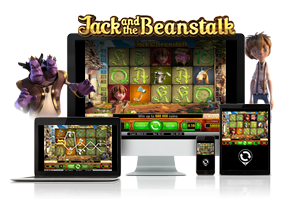 Spillemaskinen har 5 rækker på 3 linjer, og ud af disse har det 20 udbetalingslinjer, 1-10 indsatsniveauer samt et mønt-indsatsniveau, der kan stilles på enten 0.01, 0.02, 0.05, 0.10, 0.20 eller 0.50. Du kan dermed helt selv vælge mønt-niveau, men Max Bet spiller på alle 20 linjer og det højeste indsats-niveau. Wild symbolet optræder på række 2, 3, 4 og 5 og erstatter dermed samtlige symboler, undtagen Nøgle og Scatter symboler.
Herudover ganges alle Wild gevinster med 3 i denne spilleautomat, og Free Spins aktiveres ved enten 3 eller flere Scatter symboler, som udløser 10 Free Spins. Hver eneste gang Walking Wild symboler optræder i spillet, får du 1 ekstra spin, og Wild symbolet rykker hernæst en række til venstre og forøger således dine chancer for at vinde. Jack and the Beanstalk har desuden en Treasure Collection, som udløses via antallet af nøglesymboler, som du rammer – nøglesymboler optræder kun på række 5 i Free Spins.
SCREENSHOTS AF JACK AND THE BEANSTALK SPILLET
GENNEMFØRT GRAFIK-OG LYDSIDE
Selve spillet begynder med en lille video, hvor man bliver præsenteret for karakteren Jack, og man ser ham stikke af fra kæmpens hus for enden af bønnestagen. Såfremt du ønsker det fulde udbytte af spillet, kan du vælge at læse eventyret selv forinden, så det hele giver meget bedre mening. Der er desuden tale om en utrolig flot grafik samt en fantastisk musik- og lydside, hvilket gør Jack and the Beanstalk til et gennemført eventyrspil. Der er desuden et behageligt spil flow, hvilket resulterer i, at man sagtens kan spille i lang tid uden at blive alt for træt.

SPIL MED RIGTIGE PENGE? FÅ FREE SPINS BONUS